Who loves pens? I do! I do!
Let me just clarify… I am a pen freak! And have been as long as I can remember. I draw, color, write, take notes, doodle, task and do crosswords, all in pen. Just recently, I had to buy regular number-two pencils; not for me, but because occasionally my husband, parent or (grown) child asks me for "just a pencil" and I did not own a regular pencil 🙂 I do, however, have coloring, drawing and watercolor pencils, but that is another post.
Of all my crafting loves, my pens and markers are probably at the very top.
Of my massive pen & marker collection (bought and accumulated over a period of years), my assorted Tombow collections are the most-used. Among this collection includes adhesives, Mono Multi glues, erasers, highlighters, Fudes, mist-ers, correction tapes and several Black and Gray Twin Tips (which I use frequently).
Today, I wanted to show you a recently acquired organizational item that helps me keep my Tombow Dual-Tip Brush Pen Set, water-based markers & pens and drawing tools together and more easily accessible for my frequent use. And I love it!
It's the Tombow Storage Tote Bag for Dual Brush Pens, Arts and Crafts Supplies. I paid about $36 for mine, but at the time of this writing, Amazon had it for less than $27. What it saves me in shelf space for everything I can put in it, and it's easy accessibility was certainly worth it for me!
I was able to put my entire Tombow Dual-Tip Brush Pen Set with Stand in it and I had also bought an extra (empty) Tombow Dual Brush Pen Desk Stand for additional pens, and guess what?! — They BOTH fit in the case, side-by-side, with room for a couple of drawing books, and smaller pen sets. The top or lid to the bag zips shut, leaving plenty of headroom for your pens.
Just a tip: The stands are simply assembled in less than a minute, but you will want to washi-tape each stand together, top-to-bottom. Some time back, I pulled the filled stand from my shelf to use my pens, and the bottom piece dropped to the floor, releasing my whole carefully-color-organized collection on the floor! No harm done, except another hour or more spent putting my 96-pen collection back in the stand by color. 🙂 I haven't had any more problems since my washi hack. And now that they are in their new home (the Tombow bag), there will be no more issues of that sort.
Another tip: A couple of my other assorted pen sets were difficult to tell what color they were, so I colored a swatch of each pen on paper, punched it with a hole-punch and adhered it with Glossy Accents to the top of each pen.
The photo below shows my filled bag. I may re-arrange my favorite "other" pens from time-to-time, but the main concept will still remain.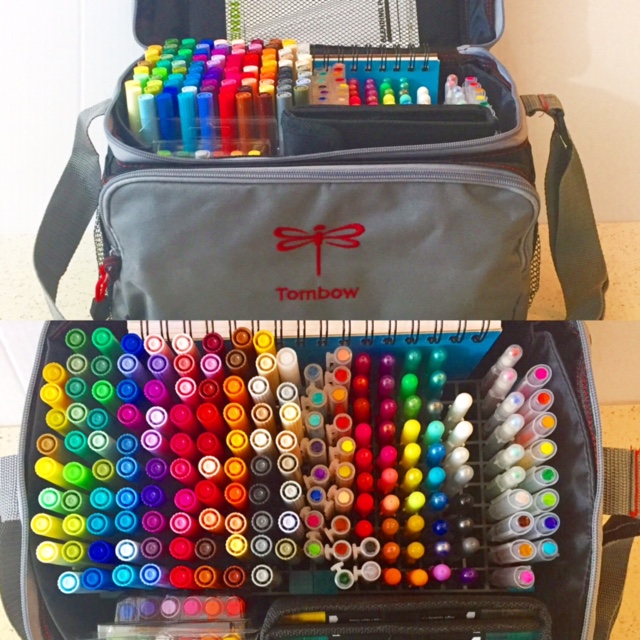 For a sampling of Tombow products, these two sets are awesome… I have even bought them (again) for myself recently to re-supply my constant use of them:

Here are some of my Favorite Things when it comes to Tombow, plus a couple tools I used to assemble my bag:  🙂
(All  items were personally purchased.  Where available, in this post, I have used compensated affiliate links which means if you make a purchase I receive a small commission at no extra cost to you. Thank you so much for your support!)