🙂 Giveaway details at bottom of post 🙂
Any paper-crafting veteran out there can't resist the cute styles and themes of a die cut pack. We all say that we are going to use it in our next planner spread or the next brain dump in our bullet journals or on an original card. But what really happens is these cute little prints on paper just sit there, in an adorable pile, in a cute box, collecting dust. I suffer the same problem, yet I can't resist buying them. So, I came up with the perfect solution– a Xyron Sticker Maker–that I "re-discovered" in my own stash! Odds are you already have one in your stash, too, and if not, they are relatively cheap. The Xyron Sticker Maker turns any die cut or printed image into a sticker in seconds and you are left to use it as you see fit. The Xyron Sticker Maker comes in multiple sizes (including a disposable option) for an array of media, but all are simple to use, and can turn any flat object into a sticker.
I have re-discovered and dusted off my Xyron machines and have since been using them consistently for my planning, bullet journals and card-making.
These 1.5″ and 5″ models are refillable (there is also a nice 9″ model):
Xyron also makes disposable units, but they are a little hard to find, although I believe Xyron still makes them. Occasionally you can find them on Amazon and HSN.com.
Here are some pictorials (thanks to my daughter, Alex 🙂 ) showing how the 1.5″ Sticker Maker works: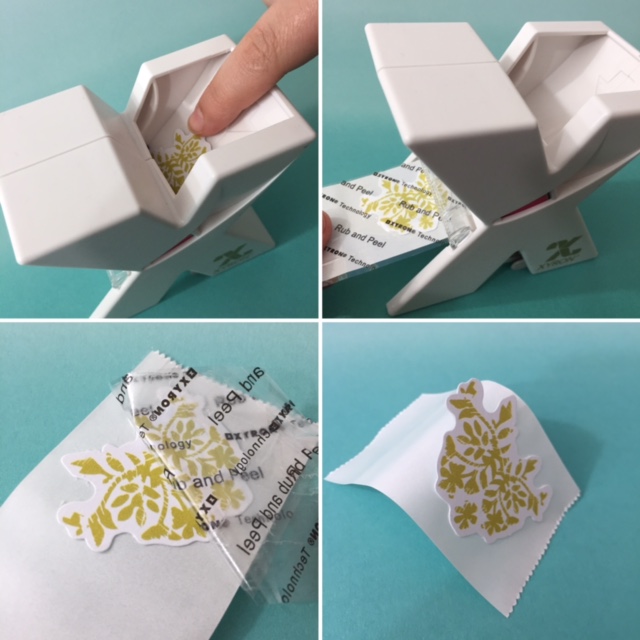 So, let's get on with the Giveaway! One lucky Winner will receive everything shown in the Giveaway photo below:
NEW, Filled 1.5: Xyron Sticker Maker
Refill for Xyron
New Adhesive Runner (for ephemera larger than 1.5″)
(8) Assorted Packs of Ephemera
Enter below 🙂
(If you are already subscribed, simply type in the email with which you have already subscribed.)
RULES (the small print):
Giveaway open to U.S. Residents only. No purchase necessary. Must be over 17 years of age. Giveaway ends Wednesday, Nov. 8, 2017 at 11:59 pm, Mountain Time. The winner will be announced by Friday, Nov. 10, 2017. Facebook, Twitter, Pinterest, and Instagram are in no way associated with this giveaway.  By providing your information in this form, you are providing your information to me and me alone.  We do not share or sell your information. This giveaway is not sponsored. All  items were personally purchased.  No giveaway accounts, please.
Xyron Sticker Makers can be found on Amazon:
(Where available, I use compensated affiliate links in this post which means if you make a purchase I receive a small commission at no extra cost to you. Thank you so much for your support!)
Good Luck!