Hello friends 🙂
Here is a super simple watercolor that anyone can create. The nifty thing about small, simple paintings is that just about any creation looks great! The painting can be made into a personal card with a simple hand lettered greeting, which will certainly impress the recipient. Or you can put it into small upcycled frame, which can be picked up at thrift store for just a few quarters a piece.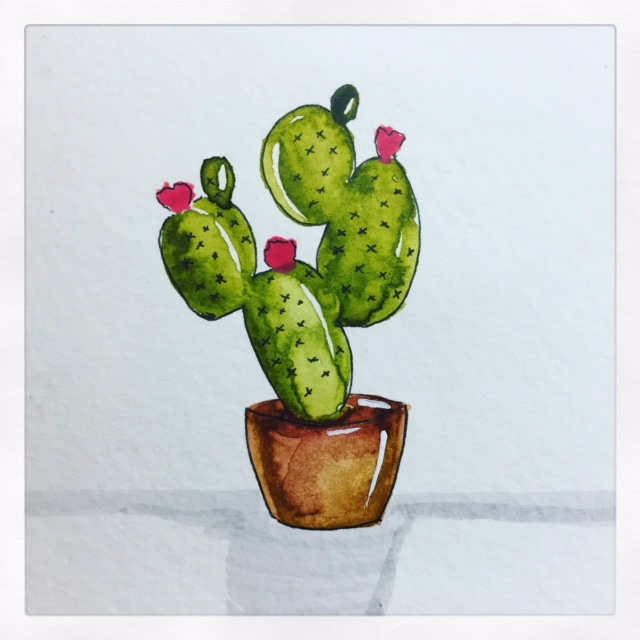 Now if starting a painting from scratch makes you a little nervous, simply trace a magazine, Pinterest, photograph or online image that appeals to you. (If you plan to sell, market or post your painting, be sure the image is YOUR OWN). Sometimes I mimic a Pinterest image, but add my own additional elements or artistically alter it in some way–basically just using the online image for inspiration. And that's what I encourage you to do. MAKE it your own 🙂 You are welcome to trace, paint and post my images… Be sure to tag me when you post them!
My favorite watercolor supplies to use are some economy brushes I found on Amazon and assorted Prima Watercolor Palettes, along with my little bottle of white paint and fine brush for highlighting. I also detail many of my watercolors with Tombow or Staedtler Fineliners. (Supplies listed below). On this particular piece, I've added a little shadow around the base with a Grey Tombow Dual Brush Pen.
Just a couple tips: For a nice marbled effect, lay down some water with a brush in the desired shape first and then paint in two or more colors and watch them meld. Also, be sure and let portions dry before entirely changing colors or before painting an adjoining section. Further color details can be added after drying.
Have a great day!
Nanette
Supplies
(All  items were personally purchased.  Where available,  I use compensated affiliate links which means if you make a purchase I receive a small commission at no extra cost to you. Thank you so much for your support! You may need to scroll…)
Amazon.com: Princeton Art & Brush Real Value Synthetic Brush Set, Round…

Amazon.com: Deleter Manga Ink – White 2: Toys & Games

Amazon.com: Royal Brush Crafter's Choice Gold Taklon Liner Brush, Size-3

Fabriano Studio Watercolor Paper Pad 9X12 HP 300GSM 140 LB (Copy)

Amazon.com: Prima Marketing 590260 Watercolor Confection: Shimmering Lights

Amazon.com: Prima Marketing 590253 Watercolor Confections: Pastel Dreams

Staedtler Pigment Liner Sketch Set

Tombow MONO Drawing Pen, 3-Pack – Art + Craft

Tombow Dual Brush Pen, ABT, N75 (AB-TN75)