It's been a beautiful day here in Northwest Montana, and so I've been alternating my time between card-making and gardening. I think gardening and the outdoors makes me more creative. 🙂
The card kit I am using today is from My Favorite Things. Now, when MFT issues a card kit; that's IT. They don't offer the items individually and they don't restock the card kit. So, when they put out a new kit that I really like, I buy it quick!
I apologize for using a kit that can no longer be acquired, but the card demonstrated can certainly be duplicated or adapted using another floral set of any brand, as well as other sentiment dies and stamps.
I started this card by multi-inking each flower with MFT's mini stamp pads. What I mean by multi-inking is that I inked the leaves and flower at one time using two different colors so that I would only need to stamp the image once. Mini ink pads are perfect for this technique! Then I inked and scattered leaf images around the edge as I did the flowers.
I stamped the "Rock" sentiment next. Then I die-cut the "You" and adhered it using 1/8″-thick foam strips.
I applied Ranger's Enamel Accents randomly on the layer to finish it off 🙂 Then I assembled my black and white card layers.
Done!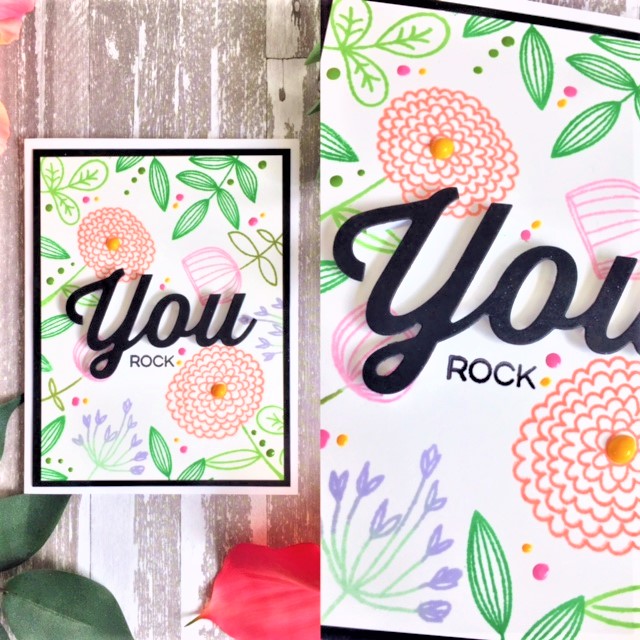 SUPPLIES
(All  items were personally purchased.  The links in the post above do NOT contain affiliate links, however, below, I have used compensated affiliate links which means if you make a purchase I receive a small commission at no extra cost to you. Thank you so much for your support!)