Ok, now… Let's use up some of those scraps! It could be the pile of paper scraps that's ever-building in our drawers, or one of the many 6 x 6 pads that we never seem to remember to use. I used an old 8 x 8 pad that has been sitting on the bottom of one of my many "organized" piles for awhile.
Next, pick out a sentiment die, such as Thanks, Hello, Hi, etc. For a quickie card like we're making today, a die that cuts the sentiment in one piece will make this a quick and easy project. I used My Favorite Things Many Thanks die set. I actually had my husband cut the sentiments (on black cardstock) while I prepped the scrap pieces 🙂
I matched three sets of two coordinating papers, and cut each piece to measure 5″ x 3.75″ x 2.5″. Then I cut three strips of white cardstock to measure 3.75″ x 1.5″. I had already prepped my A2 white card base with a layer of black cardstock measuring 5.25″ x 4″.
I used precision glue to adhere the sentiment to the white strip.
I attached two patterned paper scraps per card, one on top and one lined up along the bottom onto the black and white card base. Then I attached the white strip/sentiment to the center of the card.
There! Easy, peasy 🙂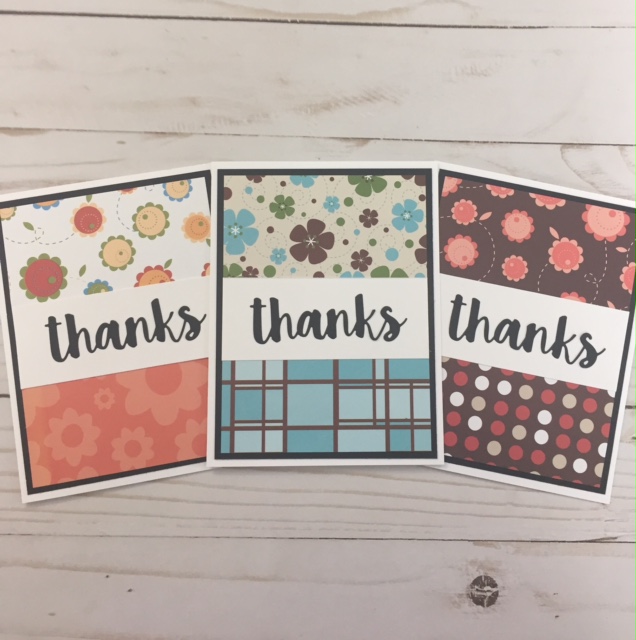 SUPPLIES
(All  items were personally purchased.  Where available,  I use compensated affiliate links which means if you make a purchase I receive a small commission at no extra cost to you. Thank you so much for your support!)