If you search "IKEA Raskog" on Pinterest, you will find hundreds of fantastic ideas for using this cart. I'm neither an affiliate for IKEA, and sadly, nor do I live near one anymore. Here's hoping that someday, an IKEA store will be built in Montana.
If I get a chance, I'd like to acquire one or two more of these carts. I've had mine for almost two years, and it's had a couple of content changes, because… I really need three 🙂 They don't seem to carry teal any more, but I've seen many paint their carts their own preference of color.
My Raskog has recently become my Color Cart. Now, this doesn't include my everyday & planner pens, regular-size ink pads, color & watercolor pencils (although, I have one set in there), paint markers or alcohol & Copic Markers. We'll do another post on how I store those later.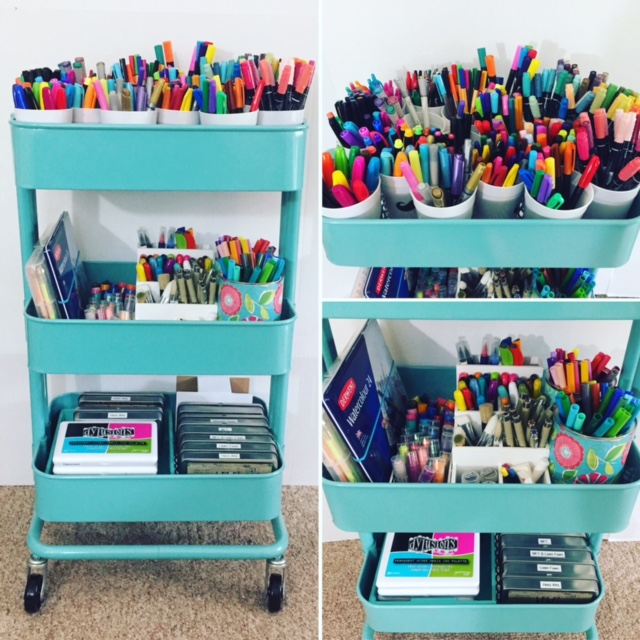 The top bin cart contains mainly my water-based pens and markers. I am using sturdy 4″ plastic cups (not the easily-crushed kind of cup) that I ordered from Amazon. The pens are sorted in each cup by brand and by type. Some people sort by color. Whatever works for you.
The middle bin contains one of my Derwent Watercolor pencil sets, a KaiserColour Gel Pen set and two repurposed coffee tins holding my Crayola Super Tips. Next to those is narrow container holding my Gelato's. I also have a Totally Tiffany Desk Tower in the same bin containing other various utensils.
There are super-large ink pads in the bottom bin, sharing space with mini ink pads stored in labeled Tim Holtz Mini Inkpad tins.
Several companies do sell a similar cart that I am sure would work just as nicely. Target has one. So does Michaels and Amazon (linked below).
I previously wrote an article on how I organized a portable bag here, containing my Tombows, Gelly Rolls, and Kuretake's, which "lives" next to my Raskog, when not in use.
I'd love to see what you do with yours if you have one (or more!). Tag me on Instagram so I can see it 🙂
Have a great day!
Nanette
Supplies
(All  items were personally purchased.  Where available,  I use compensated affiliate links which means if you make a purchase I receive a small commission at no extra cost to you. Thank you so much for your support!) You may need to scroll….
| | |
| --- | --- |
| Mint Lexington 3-Tier Rolling Cart By Recollections™ | Amazon.com: Linon 3-Tier Cart Metal, Turquoise: Home & Kitchen |
| Amazon.com: Fun ExpressMustache Cups Reusable Plastic Party Cups – 12… | Tim Holtz® Mini Distress Ink Storage Tin |
| Amazon.com : Derwent Water Color Pencils, Watercolor, Drawing, Art, 36-Pack… | KaiserColour Gel Pens |
| Amazon.com: Crayola 50ct Washable Super Tips – "Styles May Vary": Toys &… | Totally Tiffany – Desk Maid – Tool Tower |
| Faber Castell Dolce 2 Gelatos Mix & Match Gift Set | Faber-Castell GELATO DOUBLE SCOOP 23 piece GIFT SET 770270 |