I enjoy doodling retro flowers and foliage. Today, I decided to put the doodling on cards 🙂
You do not have to be an artist to draw the flowers, but if you're not familiar with modern calligraphy, you may want to practice first. Lots of inspiration and tutorials can be found on Pinterest using those key words. (You can also find great flowers to doodle on Pinterest, too). If you still find that it is a technique that you can't master in a day, just use a favorite sentiment stamp.
You can create directly on a card base or you can layer with matching or coordinating layers. I used a white top layer and hand-wrote the sentiment using Tombow's Dual-end brush pen in black. (The trick is a light hand on the upstroke and a heavy hand on the down-stroke). I took Tombow's gray-scale pen to create the shadowing effect. I drew three non-perfect, vertical lines above the sentiment at different heights with a Staedtler Pigment pen.
I used Ranger's Archival Ink for my flowers. Card 1, on the left, was sponged with a large dauber, making a single impression with each color of Ranger's Paradise Teal, Vibrant Fuschia, and Bright Tangelo. Card 2, on the right, was daubed with finger-tip daubers. First I daubed Ranger's Sunflower for the middle of each flower and created a shadow with a dark yellow Tombow Dual-end brush pen. Then I circled each dot with Ranger's Majestic Violet, Vibrant Fuchsia and Paradise Teal respectively.
I drew imperfect outlines on the flowers with a Staedtler Pigment pen. Card 1 was finished off with Doodlebug's Matte Enamel Dots. I used Nuvo Drops on the center of each flower on Card 2.
Remember… The charm of these cards is that they are imperfect! 🙂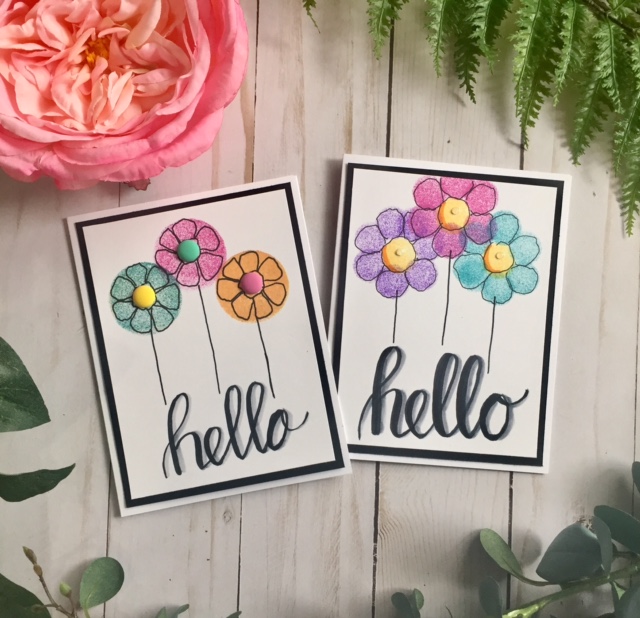 Supplies
(All  items were personally purchased.  Where available,  I use compensated affiliate links which means if you make a purchase I receive a small commission at no extra cost to you. Thank you so much for your support!)